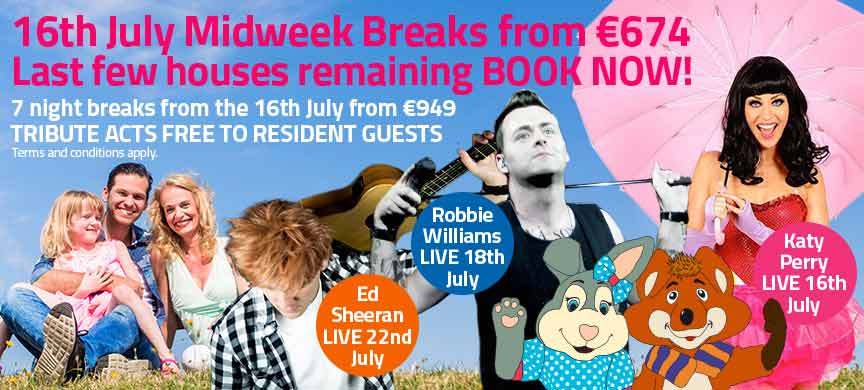 16th July Midweek Breaks
Midweek July to Trabolgan East Cork
Escape to East Cork this July with great value midweek breaks for all the family to enjoy- BOOK TODAY- All larger houses NOW SOLD OUT!

Chestnut Accommodation (Sleeps 4/5 people)
Dates

Discounted Price
4 night midweek breaks
16th July 2018
€674
7 night breaks
16th July 2018
€949


Forest Oak Accommodation (Sleeps 6/7 people)
Dates

Discounted Price
4 night midweek breaks
16th July 2018
€749
7 night breaks
16th July 2018

€999
Sycamore Accommodation (Sleeps 6 people)
Dates

Discounted Price
4 night midweek breaks
16th July 2018
€799
7 night breaks
13th & 16th July 2018

€1,174

BOOK EARLY TO AVOID DISAPPOINTMENT
New and Exciting Developments for 2018

We have some exciting new developments on park for the 2018 season with over €2 million invested as part of our continual upgrade and investment programme . All our Chestnut and Alpine accommodation across the park is been updated and refreshed for the 2018 season. And in addition to this, there will be a new spectacular covered plaza at the heart of our main centre. Boasting an expansive skyline roof, the Village Plaza will bring together amazing entertainment and a host of dining experiences, all under one roof. This high tech engineering project will link together buildings in Trabolgan's main centre, providing an all-weather facility at the Village Plaza. The expansive and spectacular 18,000 sq. foot roofing structure, made from transparent polycarbonate materials, will shied visitors from the unpredictable Irish weather, without blocking the light shining in. It will bring together outdoor adventures, live entertainment and casual dining in a spacious and comfortable environment where weather is never an issue. Connecting all venues in the main centre from our Shops to our Pool Paradise, the Village Plaza is the perfect place to unwind and watch the world go by.
Beside the Trabolgan pond, we are developing a whole new picnic and nature area with beautiful wooden benches carved from 100 year old marcocarpa native trees where families can sit back and enjoy some fun quality time together. Our incredible wooden sculptured Florrie the Fox will amaze all our Florrie fans and our beautiful fairy houses and magical Florrie the Fox "Worry Tree" will give hours of fun and enjoyment to both young and old!
Back by popular demand for the 2018 season come and meet your favourite characters including Ben and Holly and Peppa Pig and George with lots of fun and games and singing! You can also meet the Trabolgan Woodland characters including Florrie the Fox, Bonnie the Bunny, Wez the Weasel and Billy the Badger. Click for more
Jam Packed Summer Entertainment for all the FAMILY!
This summer will see another jam packed entertainment programme here at Trabolgan- something for all the family. Have fun with the Trabolgan TeamStars as they star in their brand new shows for the 2018 season. See Katy Perry Tribute Live on Monday 16th July and Robbie Williams Tribute Live on Wednesday 18th July FREE TO RESIDENT GUESTS! Meet all your favourite characteres, enjoy a game a bingo, have fun at Karoke or dance the night away at our fun disco and see our amazing summer band tribute line up (click for more)- ALL FREE TO RESIDENT GUESTS.


A Wide Range of Activities for Busy Bees!
As well as great savings, Trabolgan offers plenty of activities that children of all ages will love. We have created a wide range of activities for children that are entertaining, educational, but above all, fun! So you can sit back and relax, safe in the knowledge that your little ones are safe, secure and having a ball!

Call our reservations team TODAY on +353 (0) 21 4661551, email us with your enquiry reservations@trabolgan.com or book online below.